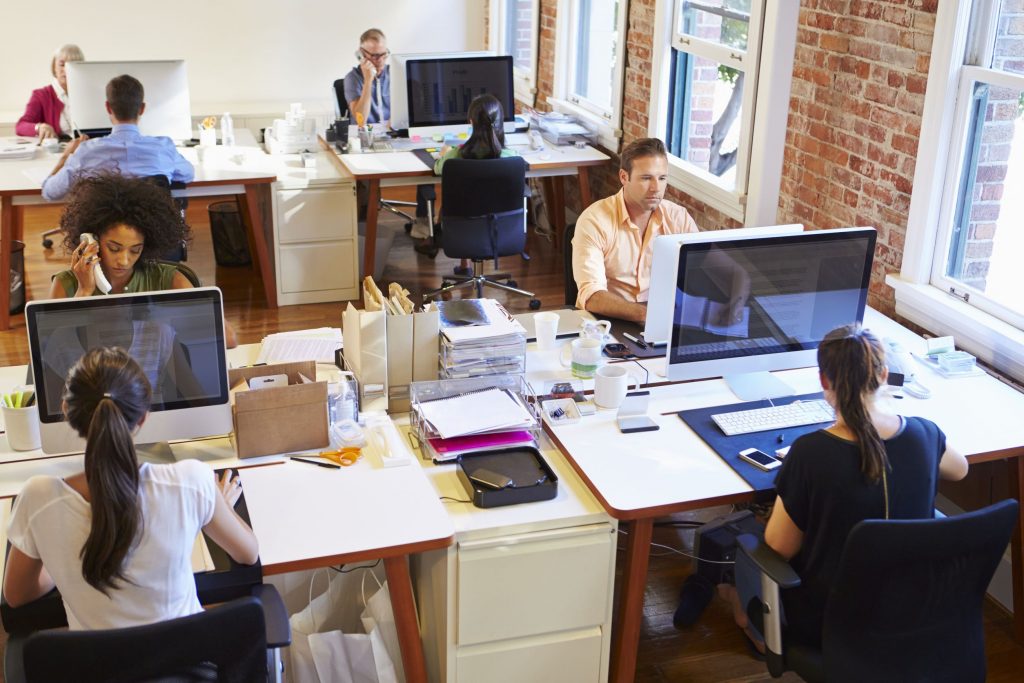 Managed IT Services Overview
Technology can certainly be confusing and there are many managed IT service companies that use that to their advantage, but at Harmony Tech, we believe in simple, easy to understand solutions — even when the technology behind them may not be.
Problems with workstations and servers have a huge impact on productivity. So when there are issues, it's bad for business. With Harmony Tech Managed Services, we can spot problems and fix them quickly, ensuring optimum availability for all users and keeping your business running smoothly. After you have signed your managed services contract, and we have completed the on-boarding process, our goal is to be virtually invisible to your organization. We work in the background, silently seeking out potential problems and usually fixing them before you are even aware they exist.
Companies of nearly all sizes and industries can benefit from managed IT services. The cost to employ a mid-level IT support employee can easily exceed $80,000 per year, even before accounting for benefits. Realistically, that person can't be available 24/7/365, nor will one individual likely have the depth of knowledge or skills required to support numerous technologies. Even if you have a department with several IT staff members—each with his or her area of responsibility and expertise—they may still not have enough knowledge or capacity to provide adequate support around the clock. Additionally, all firms need proactive monitoring of servers, network infrastructure (firewalls, switches, routers, storage, etc.) and workstations. The cost to implement an in-house solution can be prohibitive or even impossible.
Harmony Tech invests significant time and money to develop technologies, processes and staff to support our clients. While Harmony Tech remains a separate organization from our clients, we strive to challenge the perspective of being a vendor for all parties involved and provide deepest possible level of transparency and integration into our client's business. These economies of scale enable companies to leverage expertise and technology at a fraction of the required investments of internal technology and engineering talent. Harmony Tech is uniquely positioned to seamlessly provide advanced tools and expert-level knowledge along with around-the-clock support. Reliable, consistent support from Harmony Tech in conjunction with predictable, budgeted IT operating expenses provides the best of both worlds. This creates a partnership between your business and Harmony Tech that ensures a trusted-advisor relationship.
Managed IT Services Benefits
Managed IT Services FAQ
Is my company a good candidate for Managed IT Services?
Jason Russell
2019-02-21T14:18:23-04:00
If you can relate to 3 or more of these statements, your company will benefit from Harmony Tech's Managed IT Services:
You realize that IT is an integral part of your business that can no longer be handled by the boss's kid, one of your staff members, or the guy next door.
You understand that IT is no longer an optional expense, but, an operational expense similar to the electric power company.
You want an IT company that thinks like a business owner before thinking like IT technicians.
You just want it all to work!
You did not choose your career to mess around with IT issues.
You understand what it costs your company for you to not focus on your top priorities.
You do not want to be in the IT business.
You do not want to deal with IT.
You are done trying to get techies to understand what you really need.
You realize the hourly cost of downtime and business interruption is so much more than a technician's hourly rate.
You are finished with trying to manage depreciating assets.
You are done with finding, hiring, and managing IT staff.
You never want to deal with Technology vendors blaming each other.
You realize that a break/fix IT support company is not incentivized to fix your problems.
You put up with IT support issues because you do not want the trouble of changing to another support provider.
Managed IT Services Packages
Standard Managed IT Services
24/7/365 Monitoring
Patch Management
Google G-Suite Basic Seat
Managed Security (Seat Only)
Discounted Hourly On-Site Support
Discounted Hourly Remote Support
24/7/365 Support
Virtual CIO (Annual Meetings)
Asset Management
Hardware / Software At Cost
Premium Managed IT Services
24/7/365 Monitoring
Patch Management
Google G-Suite Business Seat
Managed Security (Seat & Office)
Unlimited On-Site Support
Unlimited Remote Support
24/7/365 Support
Virtual CIO (Semi-Annual Meetings)
Asset Management
Hardware / Software At Cost
Premium Managed IT Services + VoIP
24/7/365 Monitoring
Patch Management
Google G-Suite Business Seat
Managed Security (Seat & Office)
Unlimited On-Site Support
Unlimited Remote Support
24/7/365 Support
Virtual CIO (Semi-Annual Meetings)
Asset Management
Hardware / Software At Cost
VoIP Phone Service (Seat Only)
Get In Touch