We Treat You Like a Partner
This is a big deal for us at Harmony Tech. We view our clients as partners, and believe that for Harmony Tech to be successful, our clients must be successful. At Harmony Tech, you will find a group of people excited about getting to know you and your organization and how we can partner with you to bring the best possible results for everyone.
We Listen To You
We listen to your needs and wants. We are business people, just like you: we will work with you to find a solution that fits your budget and within your time constraints.
We Are Responsive
We're focused on our clients' needs: We recognize the importance of smooth, uninterrupted business operations at our clients' offices and work hard to ensure that technological issues never disrupt their work. Harmony Tech knows how valuable your time is and that when you have a question or a problem you need to hear from us immediately. Our average response time on tickets is under 5 minutes, and we're available 24/7 to help your business succeed.
Designed For Small & Medium Businesses
We work almost exclusively with small and medium businesses (2-250 employees) and have a wealth of experience supporting them. Our service and recommendations are tailored specifically to their needs.
We Bring Our Best Ideas
Our team brings over 100 years of combined enterprise IT experience to Harmony Tech. Each and every day, we find ourselves in environments where creativity is an absolute must. We know that you come to us looking for great ideas and that is exactly what you are going to get. It's easy to say that if you work with us, we're going to knock your socks off. We all know that actions speak louder than words, so let us prove it to you.
We're Flexible
We can customize our service offerings to suit your particular business goals and growth rate. Whether it's on demand services, project based or managed services; we are adaptable to your needs and not reliant on any one method to achieve the right technology solutions for your company.
So What Does This All Mean For You?
It means you will get our best, no matter what your budget. It means you'll always be able to reach someone who is working on your project when you pick up the phone. It means we will never sell you things that you don't need and you will always hear the honest truth from us. Basically it means we do what we say we will do.
A Personal Guarantee
I personally guarantee your satisfaction. If, for any reason, you are not satisfied with us for ANY reason, just contact me and I will do everything possible to make it right.
Sincerely,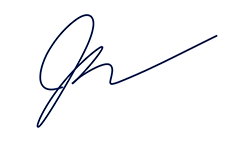 Jason P. Russell
Founder & CEO